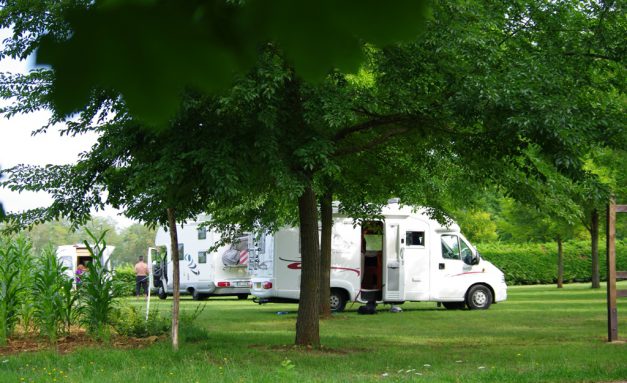 Motorhomes in the Domaine de Barbe in Dordogne Périgord
We provide you a shaded field.
No emptying platform on site: A service area can be used in the village of Badefols-sur-Dordogne, 800 m from the Domaine de Barbe.
You will find the deposit for your garbage going down to Badefols (1km) in front of the cemetery. Point of water and emptying in the village of Badefols
All shops, supermarkets, banks, pharmacies, doctors, worship, garages in Lalinde (7km).
Hotels, restaurants, farm inns nearby, we are at your disposal to guide you in your choices
Railway stations at Lalinde (7km) and Buisson de Cadouin (12km).
Tourism information available at the reception as well.
TOURISM:
In the heart of the  Bastides, near Lalinde, Molières, Saint Avit Sénieur, Monpazier, "new cities" of the Middle Ages sheltering under their antique arches and handicrafts …
Nearby: tennis, golf, horse riding, mountain biking, hiking, quads, canoes, vineyards …
The surrounding vineyards will present you with a variety of delicate flavors; Bergerac, Monbazillac for the best known but also charming names like Saussignac, Rosette, Pécharmant … In all 13 Appellations of Controlled Origin on the vineyard of Bergerac …
Nearby also:
– the Dordogne valley and its 1001 castles
– the Vézère Valley, a UNESCO World Heritage Site (Lascaux, Proumeyssac, Les Eyzies and its museum of prehistory …)
– Sarlat, Domme, La Roque-Gageac, Belves … classified more beautiful Villages of France for unforgettable ballads …
Some links to prepare your holidays:
– L'office de tourisme du pays des Bastides
– L'office de tourisme du Bergerac Pourpre
Très bon accueil produit de très bonne qualité air pour camping car ombragé avons rencontré les propriétaires lors de la foire de Bourges ou l on peut déguster leurs produits amitiés à eux
Roland Q….. (Avis Google 2017)
Bello bello bello, senza servizi, solo camper autonomi
Azrosso (Park4night 2016)
Quelle excellente idée nous avons eu de ne pas nous contenter de l'aire de camping-cars ! Le domaine et le champ arboré et plat réservé aux camping-cars est magnifiques. Les propriétaires ne viennent pas nous chercher pour pousser à la consommation… Leurs produits sont au demeurant remarquables.
Pagli73 (Park4night 2015)
Free


Nous mettons à votre disposition une plate-forme d'accueil ombragée gratuitement
Booking